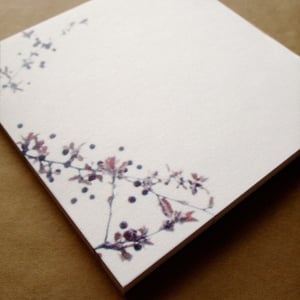 $

3.50
Add a little pretty to your office memos!
I use these ALL the time to write myself little memos. Somehow the digital calendar doesn't doesn't have the sense of beauty as seeing my little note stuck to the fridge. :-)
These are my own photos of plum blossoms from this spring.
Lots of white space for you to write your notes on!
Pages: 50
Dimensions: Approx. 3" by 3" (7 cm by 7 cm)
**All orders placed in British Columbia will include 12% HST, added automatically via Paypal.